Carriagehire will make your day very special and one you will treasure forever. We specialise in providing the Rolls Royce of Horse Drawn Carriages. Based in North Bedfordshire we are well positioned to travel to all parts of the Country. All our Wedding carriages are in first class order and are immaculately turned out. They come complete with traditional carriage lamps and ribbons where appropriate and attended by a Coachman and Footman in full livery. For an extra special touch why not book our Coach horn player. He will announce your departures & arrivals with traditional coach horn calls. Carriagehire are the only company in the country to offer Postillion, where the horses are ridden, giving the passengers a fantastic view. This is the chosen method of Royalty.
Available in either Cream & Black or Royal Blue & Black. Landau's are the most popular wedding carriages we have. These carriages are Coachman driven in the traditional manner. They both have twin hoods that can be open or closed against the weather.
Glass fronted Cream & Black landau (right) Has a glass front so the bride is very visible even with the rear hood up.
All Landau's seat 4 adults comfortably.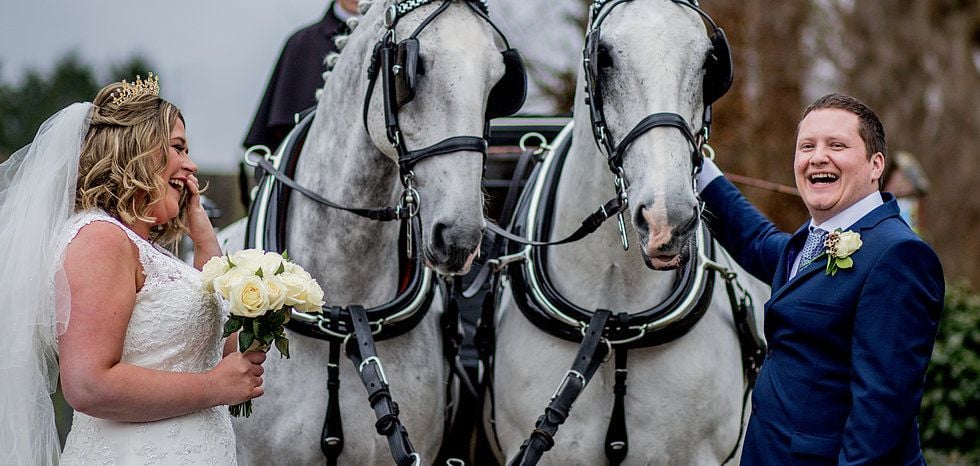 We can provide a gorgeous pair of White horses or a stunning pair of Black horses with 4 White socks and blazes. The choice is yours !
Our maximum mileage with the horses is 6 miles, however there are ways around this with discussion, as we strive to be as flexible as possible to suit all your needs. If horse and carriage is your dream, but the distance between church and reception is too far, why not let Gracie our stunning car take you the rest of the way for the best of both worlds ! Gracie is ideal for your bridesmaids and can seat up to 6. She matches the Glass Landau prefectly.
We can offer a 10% discount if you book a Car and a Horse Drawn Carriage together.