Steve and Liz met through horses over 30 years ago, at that time the main interest was competing in Driven 3 Day Events and also Showing a Pair of Horses. This led to enquiries for Wedding Carriages and so the commerical business began. We have always been known for our high standards of turnout and desire to try different things and this has led us to some amazing experences with the horses, inculding, Leading the New Year Parade in Hong Kong in 2002, The Battle of Trafgalar 200th Anniversery celebrations which was a 6 week trip from Falmouth to London and The Battle of Waterloo events in Belguim and London.
Qualifications
We are members of the PCMA (Professional Carriage Masters Association) which ensures that we offer a quality service with fully trained coachman and experienced horses.
We hold the BDS certificate for Driving Horses and Carriages in an urban environment.
All our staff hold their wato's (welfare of horses in transport)
We also hold a Operaters license for the horsebox.
We are insured with the NFU and have 10 million Public liability insurance.
In addition to this, we have many years experience competing and working carriage horses both in England and abroad, even as far a field as Hong Kong.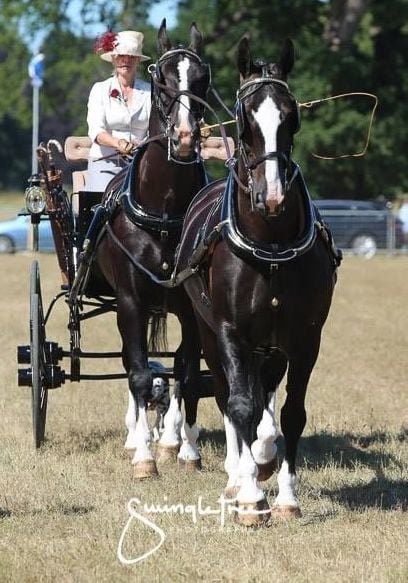 Liz enjoys turning her hand to many different types of events with the horses. With a full summer of Weddings, Funerals through out the year and Father Christmas events, weeks are pretty busy, but Liz also fits in some Attelage de Tradition Events both here and aboard. This winter the horses have been competing at Indoor Carriage Driving events, these are great fun and excellent schooling for the horses.
Steve passed away just 2 years ago and he is greatly missed. Steve had been involved with horses most of his life and his passion for tradition, helped make Carriagehire the success that it is today.
Steve was a member of The Coaching Club and drove a Team of 4 Horses and Private Coach successfully for many years in the show ring. He also competed both Pairs and Teams in FEI Events.
He had a natural ablility in understanding horses and a quiet confident way that led to a successful relationship with them, he always had a mint in his pocket and time for a pat or a scratch.
Steve and Liz were a great partnership in producing and training horses and Liz continues to enjoy training and working the horses to the same high standards today.